Deep Relaxation With an Empowering Message


Success is the ability to see your dream through the obstacles placed in front of you - to know who you are and what you want out of life.
-Marisela Rizik

Nowadays we move further away from our most cherished dreams. Pressure to produce, to consume, to make a living, to be fast and efficient, make our lives and our world busier and busier. There is little room to feel and dream. What we love most, we bury and put aside for the "right time". We live at a distance from ourselves, postponing our deepest desires for later—a time when there will be more time. The time passes and there is no time!
Immediate: Get Instant Results
Empowering: Peel Away Negative Conditioning
Revealing: Helps To Uncover Buried Dreams
Relaxing: Soothing Music, Gentle Narration
Timely: Perfect for Today's Busy Lifestyle
Complementary: Use With Other Personal Growth Tools
Portable: Easy To Use - Anywhere



Unblock...Relax...Energize!


We are all talented and creative, but most of us don't believe it! Created by a long-time practitioner of yoga and meditation, this simple but powerful audiotape will guide you through the process of believing, trusting and acting on your creative self.

The tape is a powerful, easy-to-use tool for self-growth and results are often immediate!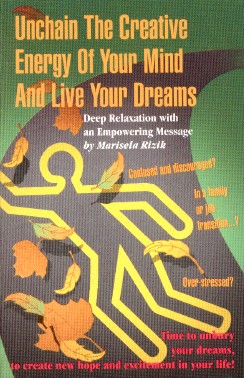 Running Time: 34 minutes.
Audio program repeats on both sides for playing convenience.

$9.95


Please note: International orders will be charged an additional shipping fee of $10.00 USD. If you have questions, please contact us before placing your order.



"My ability to visualize and clarify what I want to give to and get from life improves with each listening."
-Susan Brookfield, Training Manager, Eugene, Oregon

"The tape really did unlock my tension and release by imagination...Thanks."
-David Bernard, Video Producer, Santa Cruz, California